Tropical Storm Blas is expected to become a Category 1 hurricane today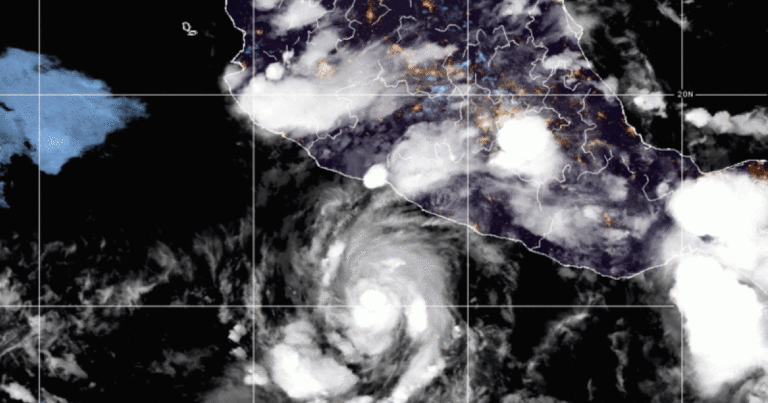 The increase in intensity could turn Tropical Storm Blas into a Category 1 hurricane by noon Wednesday, June 15, according to forecasts from the National Weather Service. The cyclone will cause heavy rains in the central and southern states of the country, being torrential in Guerrero and Michoacán, and intense in Jalisco, Colima and Oaxaca.
Blas is located approximately 265 km south-southwest of Zihuatanejo, Guerrero, and 460 km south-southeast of Manzanillo, Colima. The storm is tracking north-northwestward parallel to the Mexican coast over the Pacific Ocean at a speed of about 9 km per hour.
The storm is not expected to make landfall in Mexico and will begin to move away from the coast as it strengthens.
Blas is moving north-northwest at nearly 6 mph (9 km/h). A northwesterly turn is expected this morning, with a west-northwestward movement expected late today or tonight. Blas is expected to continue moving west-northwest through Thursday.
Tropical storm-force winds extend outward up to 95 km from the center.
Swells generated by Blas are expected to reach the coasts of southwestern Mexico later this morning. These swells are likely to cause life-threatening surf and rip conditions. Please check reports from your local weather office.
Mexico will record minimum temperatures of up to -0ºC in Chihuahua, Durango, State of Mexico, Hidalgo, Puebla and Tlaxcala. In contrast, the maximum could exceed 45°C in Baja California and Sonora, and 40°C in Sinaloa, Baja California Sur, Chihuahua, Coahuila, Nuevo León, Tamaulipas, Nayarit, Campeche and Yucatán will be above 35°C.

Trending stories right now on PVDN
Tropical Storm Blas is expected to become a Category 1 hurricane today

The increase in intensity could turn Tropical Storm Blas into a Category 1 hurricane by noon Wednesday, June 15, according to forecasts from the National Weather Service. The cyclone will cause heavy rains in the central and southern states of the country, being torrential in Guerrero and Michoacán, and intense in Jalisco, Colima and Oaxaca.…

Numbeo ranks Puerto Vallarta as the eleventh most dangerous city in Mexico, WTF?

According to consultancy Numbeo's Urban Crime Index, Mexico has at least 13 cities listed among the most dangerous in the world, some of which were considered calm and safe in the latest INEGI safety perception reports, like Puerto Vallarta, which Numbeo ranks as the eleventh most dangerous city…

US Congress warns Mexico of falling into an "uncontrolled criminal dictatorship"

The United States Congress has expressed concern about Mexican cartels and the work of President Andrés Manuel López Obrador's government in terms of national security and corruption through a report titled Mexico: Organized Crime and Drug Trafficking Organizations, prepared by the Congressional Research Service. The text warns that the United States Drug…

Two more suspected cases of monkeypox reported in Puerto Vallarta

The Jalisco Health Secretariat (SSJ) announced on Saturday that two suspected cases of monkeypox have been reported in the state. These two cases occurred in Puerto Vallarta, for which the authorities have installed an information and assistance module for people with symptoms. The first case of the virus was detected on June 7 in a…

Tropical Storm Blas forms off the Pacific coast of Mexico

The second tropical storm of the eastern Pacific season formed off southern Mexico on Tuesday, although forecasters said it was unlikely to threaten land. The US National Hurricane Center said Tropical Storm Blas could reach hurricane strength by Wednesday before losing strength as it moves westward into the open ocean. The storm had maximum sustained winds…