Sowing the seeds of success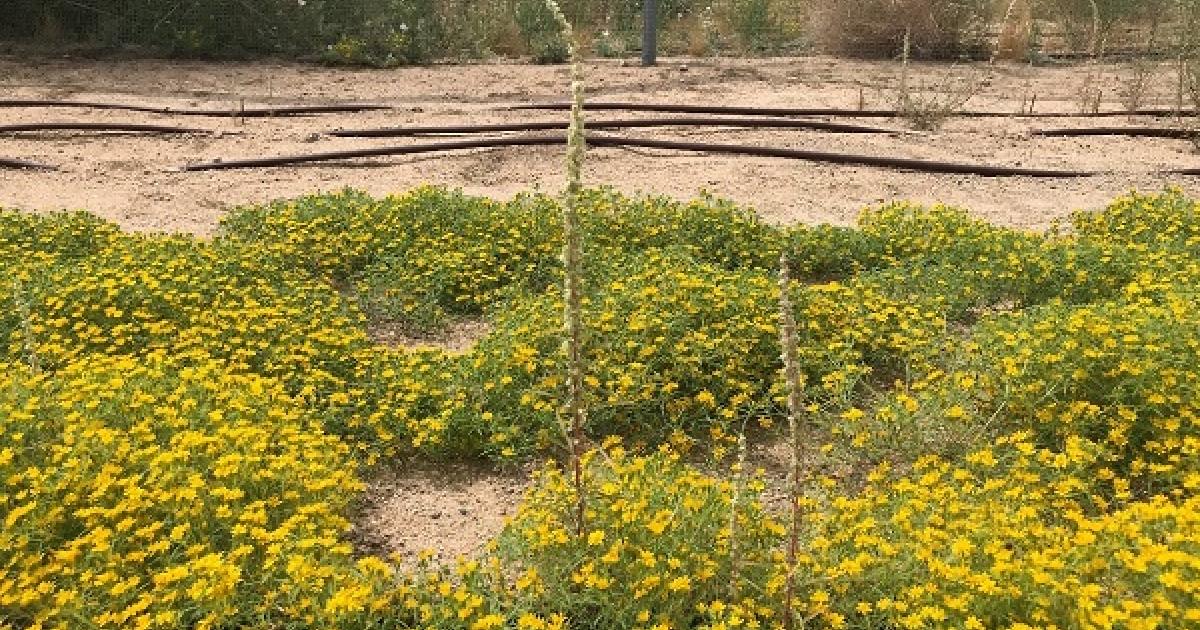 Story by Kate Miyamoto, Public Affairs Specialist, California Desert District. Photos by BLM.
Seeds are essential for life on earth. Much of the food humans and animals eat, the fabric we wear and use daily, and the plants that keep our landscapes beautiful and healthy, are created from seeds.
Seeds are also the foundation for restoring plant communities and habitat. In California's Mojave Desert region, invasive species, wildfires and drought are negatively affecting native plant communities and species that depend on them, such as the federally threatened desert tortoise. Habitat restoration is essential for the desert tortoise, which requires specific native annual and perennial flowers for food and native shrubs for cover. The same flowers and shrubs important to desert tortoises are important to pollinators and other desert species.
In 2016, the BLM established the Mojave Desert Native Plant Program to help increase the supply of native seeds to restore habitat in the Mojave Desert region. The Mojave Desert Native Plants Program created a phased strategy from the National Seed Strategy to augment native seeds, guide desert restoration, and support habitat and wildlife restoration in the desert region from Mojave. The program identified the need for additional commercial growers of seed native to the Mojave Desert and the development of protocols for growers to grow and harvest seed.
"Mojave Desert restoration projects have relied heavily on native wildland seed collections, but with climate change, increasing severe drought conditions, and increasing restoration needs, the BLM cannot not just depend on wildland collections to meet seed needs," said Judy Perkins, BLM. Mojave Desert Native Plant Coordinator.
In 2020, the BLM partnered with the Mojave Desert Land Trust on a three-year Seed Augmentation Pilot Project to test small-scale seed cultivation and harvesting techniques for native annuals in the Mojave desert. The Mojave Desert Land Trust has planted three food plants important to the desert tortoise in its nursery: fringed pigweed (Amaranthus fimbriatus), Sonoran sand carpet (Euphorbia micromera) and chinch grass (Pectis papposa). The seeds were collected, cleaned and provided to the Bureau of Land Management. The seeds produced will be used as starter seeds for larger scale commercial seed augmentation and ultimately for desert tortoise habitat restoration.
"Many of the plants needed to restore habitat for desert tortoises have never been grown commercially for seed augmentation," Perkins said. "Projects like the Mojave Desert Land Trust partnership are helping to develop protocols for how to grow and harvest seeds in agricultural settings, while also increasing native seeds collected from the wild."
The seed augmentation pilot project is in its second year and is growing strongly. In 2021, the Mojave Desert Land Trust harvested approximately 40 pounds of fringed pigweed and chinchweed seeds and in 2022 planted desert dandelion (Malacothrix glabrata) and Fremont pincushion (Chaenactis fremontii) with plans to harvest seeds. The techniques used to cultivate these species and harvest their seeds will be added to a guide to growing plants native to the Mojave Desert, currently under development for publication.
BLM's partnership with Mojave Desert Land Trust started small but could grow – like a seed! Seeds produced from this partnership will be used to restore habitat in the Mojave Desert, provide food and shelter for the desert tortoise and other desert species, increase seed supplies of important native plant species and develop methods and protocols for growing plants and collecting seeds to establish new commercial seed producers native to the Mojave Desert.