Lewes Lights Announces Category Winners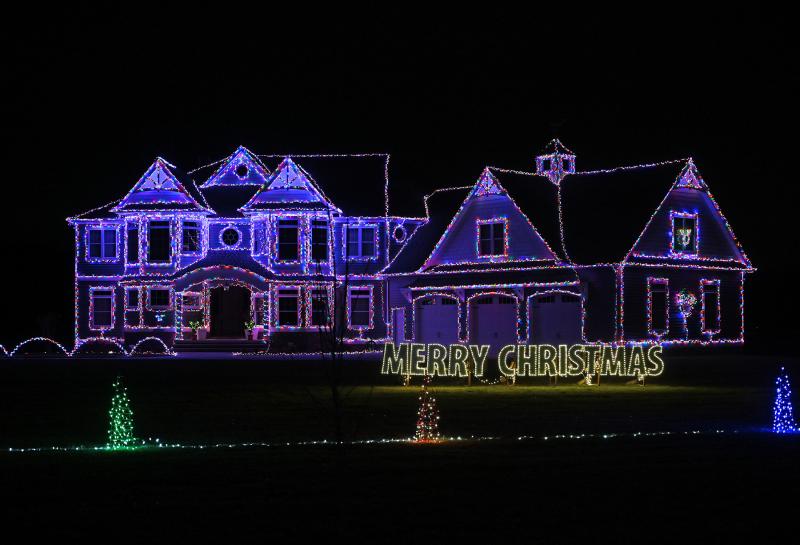 Lewes Lights is proud to announce its 2021 winners, just in time for Christmas. Judges are chosen very carefully with a few general rules – they cannot live in the town of Lewes, they must be objective and unbiased, and they must have a genuine love of Christmas. Some judges have particular expertise in the areas of the category, and the interpretation of the category is left to the judges. Winners will receive a special Lewes Lights trophy, but the best prize is recognition for their decorating efforts. The organizers of Lewes Lights would like to thank every home and business that has decorated and made Lewes shine in 2021, especially those that have not decorated in the past.
This year Lewes Lights has extended the Lewes Clark Griswold competition to the whole of the 19958 postcode area, and this is the only category open for every home in the Lewes area. Steve and Lisa Prestipino, who have delighted so many Christmas-lovers with their destination light display at Apple Electric, are the perfect judges for this special category. They know how much work goes into putting up a remarkable display and recognized that the owners of 31141 Minos Conaway Road have done a magnificent job decorating and lighting their home and property. In Steve's words, "All houses are inspiring! »
Also new for 2021 is the White Christmas Award, and a special local family has been invited to choose this winner. Three generations of the Fitzgerald family of Rehoboth Beach have worked together to judging as a family project. The grandkids even kept the judging mission top secret. It was a way to bring some light to the Fitzgeralds, who lost their beloved daughter Stacy, a bright light in the local community whose smile has brought joy to so many at Half Full for years. to cancer this fall. Grandpa Keith is a former owner of the Back Porch Café and a collector of local art and treasures. Grandma Gayle owned the Lilypad store with her daughter Paige. Gayle taught for many years in Cape Town schools, so she created a judging column. According to Gayle, "We had so much fun doing this! As a retired teacher, of course, I had to make us score sheets to rate each house on our list. I was impressed with the thoughtful consideration of the children and the ease with which we all came to an agreement. Only three homes landed in our "awesome" category, and out of the three, we easily picked the winner. So the Fitzgerald family winner for the White Christmas Award goes to 358 Pilottown.
David and June Edwards, owners and curators of Edwards Christmas Village, returned to judge the It's a Wonderful Life award, as their story of heartfelt giving and sharing the joy of Christmas is a beautiful tradition in Lewes. It's a Wonderful Life was the largest category, with 22 homes entered. According to the Edwards, "many of the displays were magnificent, including 130 Jefferson, 360 Pilottown Road and 36502 Senators Drive. Any of them deserved a reward. 360 Pilottown was striking with the lights framing every door, window and wall. 36502 Senators Drive looked very neat and professional. 121 Kings Highway was also very neat, yet simple, and was a visual delight. We finally settled on 130 Jefferson Ave. due to the use of greenery and ribbons with the lighting. The three elements put together just gave a warm, festive and wonderful presentation. The decorations worked so well with the design of the building that we just felt it spoke of a wonderful life. As we have already said, the others were also exceptional, but in any contest a choice must be made.
This year's Candles & Greens Award, which honors beautifully decorated and illuminated Lewes period homes, is awarded at 114 Gills Neck Road. Judge Randy Brown, president of the Milton Historical Society, judged with his family and had to walk past houses in this category four to five times to choose because they were all so beautifully decorated. Brown said, "Candle and greens abound on every level of the house at 114 Gills Neck Road. If the snow was falling, with the candles flickering in the window, you could imagine a horse-drawn sleigh pulling up to the property.
Sean and Meesh Rhodes, creators of the Delaware Hope signs that have brought so much goodwill to the Cape Town region in 2020, judged the Leg Lamp Award. The Rhodes are also collectors and suppliers of retro and vintage items, antiques and curiosities to Broadkill Tattoo Company and Gallery in Milton, so they are a perfect choice for this quirky category. Their choice fell on 219 University Drive: "It had all the old school vibes with the big colored lights and classic Christmas blow molds. The placement of the blow molds and lights really covered the whole house. »
The third-students at Shields Elementary School voted for their favorite in the Frozen, Frosty and Fun category. According to director Kimberly Corbridge, "the kids loved it! » Many Shields kids have come out to see all the lights, but not every family has the time or access to a vehicle to drive around. So the organizers of Lewes Lights provide a slideshow with five photos of each house to ensure that every child is included and can participate in the vote. This year's top voter is the charming Gnome House at 304 Seagull Drive, which features a variety of wood cut-out gnomes made by the owner and lots of colored lights to make the gnomes stand out. The kids also loved the "Elf" house in Pilottown with Buddy, Jovi and their pals.
Finally, the happiest and happiest street in Lewes, chosen by WRDE presenter and editor Madeleine Overturf and Hal the Dal (matian), is East Third Street. This block of downtown Lewes, where the Town Hall is located, had several Lewes Lights listed homes and many beautifully decorated, illuminated homes that were unregistered. The judges' comments from Madeleine and Hal were as follows: "Once again, Lewes Lights literally lights up our town with the spirit of Christmas. After driving and seeing all these amazing streets, I have to assign Jingle Bell Lane to East Third Street. Each house had some sort of display, whether it was a tree seen in the window or a giant cast of holiday characters in the yard. I could just imagine the neighbors talking about how they would all participate, whether they were summer visitors or year-round people. It was like a street out of a holiday movie. Jefferson Avenue was also noted as a favorite. The most special thing about the Jingle Bell Lane Award is that it's the only category where owners don't apply to compete. The streets are judged as a whole, and registered and unregistered houses count to add to the collective joy.
Lewes Lights will continue until Friday, December 31, but some homes and businesses will likely keep decorations and properties illuminated longer. The free, stand-alone business card is available at LewesLights.org, and organizers hope to make this event an annual tradition for many years to come.