How Frederick Law Olmsted's Principles Shaped Baltimore's Parks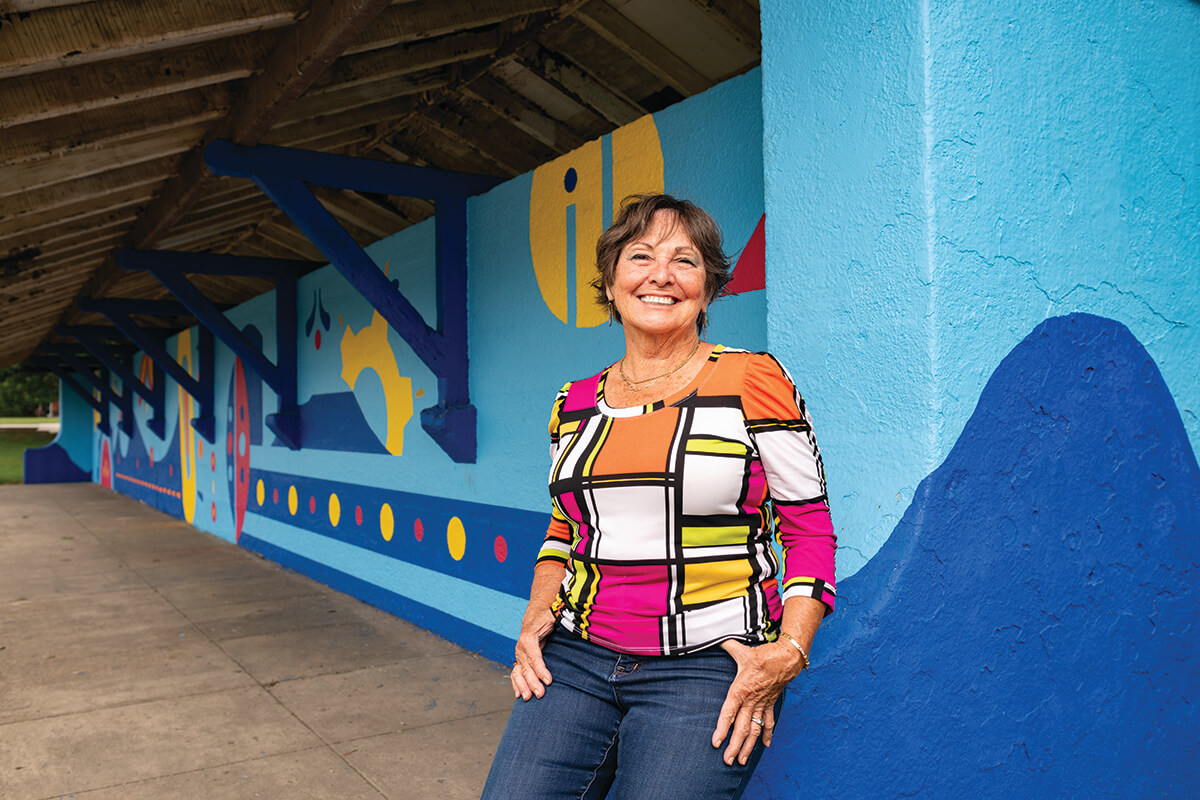 Cheryl Duffey sits on a park bench at Locust Point, surrounded by large planters with annual flowers growing. His two cocker spaniels rest at his feet on a beautiful herringbone brick terrace marking the entrance to Latrobe Park. She grabs the dogs' leashes and enters the park, descends a majestic staircase and into an avenue of trees.
"It's a well-used neighborhood park," says Duffey, who serves as a liaison for the parks and beautification committee of the Locust Point Civic Association. "When school is over or on a weekend, the park is full."
From mature trees to local residents using the space for everything from a volleyball game to a play date, today's Latrobe Park would still be recognizable by the Olmsted company that designed and opened it in 1907. Yet many people spend a pleasant afternoon here. probably have no idea they're on land designed by America's most revered landscaping company.
In May, Latrobe reinvigorated this history by placing a bronze plaque at the entrance honoring it as Olmsted Park. Latrobe also launched the first phase of the restoration of a pavilion, called "The Longhouse", with a mural designed by local artist Nicole Buchholz that was painted by neighborhood residents.
"Community involvement is an Olmstedian principle, and asking residents to paint the mural gives them ownership of 'their' park," says Duffey. She says it's also imperative to rekindle the cachet of the Olmsted legacy. "The name Olmsted is an invitation for people to come and visit – and perhaps also for there to be more resources for maintenance."
Frederick Law Olmsted is considered the father of American landscape architecture, having shaped much of this country's green spaces, from Central Park to national parks. Special events and celebrations of his projects, including Sudbrook Park in Pikesville and Mt. Vernon Place in Baltimore, are taking place across the country in 2022 to mark the 200th anniversary of his birth.
For Latrobe and other parks, it's a chance to remember Olmsted, whom biographer Justin Martin describes as "the most important American historical figure the average person knows the least", but also to attract the attention to his belief that parks are essential to democracy. and a healthy population – not just utilitarian places to take the dog to pee in the morning.
Olmsted's designs are valued for their naturalism, abundant use of trees, gentle walking paths, quiet groves, and open views. He wanted the parks to be places of serenity and community, especially as the country recovered from the horrors of the Civil War. (So ​​if it's true that he would recognize Latrobe Park, the morning joggers would probably have mystified him.)
His designs are the fabric of the American landscape as we know it. Besides Central Park, his projects include the Emerald Necklace in Boston and the Capitol Grounds in Washington, D.C. He helped preserve Yosemite and Niagara Falls and designed the Biltmore in North Carolina. Olmsted (and the namesake companies that were formed after his death, first operated by his sons as Olmsted Brothers, later as Olmsted Associates) is responsible for over 1,000 fleets and systems of rides and more than 6,000 private and public commissions in the United States and Canada. over a period of about 100 years.
Yet Dede Neal Petri, President and CEO of National Parks Association Olmsted (NAOP), which is the spearhead of the year "Olmsted 200" celebration, explains that while Olmsted's projects are many and illustrious, "what we're focusing on with the bicentennial year is the principles behind the parks." "Parks are considered a luxury, but Olmsted saw them as an essential part of our urban infrastructure," she says. He was also advocating for better and more accessible parks at a time when they were, if they existed, private.
"We hope to advance education about the Olmsted Company and its legacy, but, more importantly, we hope to engender new appreciation and support for the parks because they are not self-contained," continues Petri. "Today we need places where people can come together for mental and physical health; we need thriving parks in a time of climate change, and it will require the commitment of all of us to ensure these parks exist for another generation.
OLMSTED DESIGNS ARE LOVED FOR THEIR NATURALISM, ABUNDANT USE OF TREES, SOFT AMBLING TRAILS, PEACEFUL DRINKS AND OPEN VIEWS.
When Duffey moved to Locust Point in 2002, the neighbors were aging, and so was the park. What is now the herringbone brick terrace was then an expanse of cracked concrete, and the "playground" was just a few swings and a set of monkey bars. Community activists like Duffey, supported by the city and other partners, have revitalized the park with an expansive playground and grounds as well as the renovated longhouse with its brightly colored mural. The park has evolved to reflect both the dynamism of the neighborhood and meet its current needs.
That's what Olmsted thought: that parks should be for their communities. When he created Central Park, he said, "The park is meant to provide wholesome recreation…for the poor and the rich, the young and the old, the vicious and the virtuous.
It seems particularly appropriate to celebrate Olmsted in 2022. There is, after all, an opportunity here to learn from history.
"Olmsted was born in 1822 and grew up in pre-Civil War America," says Petri. "It was a very divided country. There was massive immigration. Much like today, it was a time of many pandemics, with all types of diseases affecting the American population. And it was a time when we were moving from a rural society to an urban society.
"Olmsted's principles that parks bring people together, parks as essential to a democratic society, are very important even as we as a country go through a racial toll and we go through a pandemic," notes- she. "It's almost strange to see the similarities between what Olmsted faced in the 19th century and the challenges we face today."