Copake Ranking Shows Category Diversity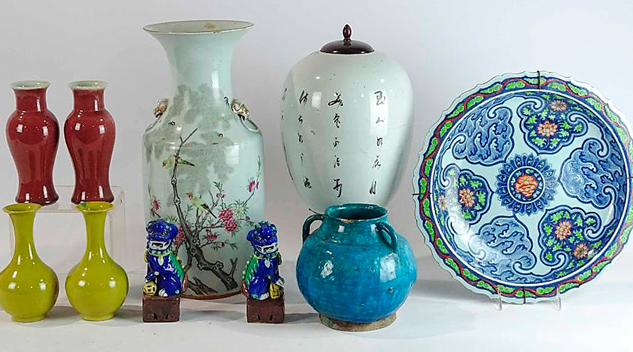 Review by Madelia Hickman Ring, photos courtesy of Copake Auction
COPAKE, NY – More often than not, real estate auctions featuring items in multiple categories will see highlights in only a few categories. That was not the case at the March 19 Copake Auction unreserved auction, in which the top lots of folk art, dolls, pewter, contemporary art, quilts, antiques Asian paintings, works of art, maps and furniture all featured in the auction's top twelve lots. The sale, which offered 782 lots, included 81 from the Myron & Carolyn Neugeboren Collection. This was the third sale in which Copake sold works from collectors in Lakeville, Connecticut. Mike Fallon said the Neugeboren collection has been "very well received" and will be offered at two additional auctions.
With more than 3,000 purchase orders and more than 1,500 viewings and online bidding during the sale, almost 97% of the lots were successfully offered from the podium.
Attaining the sale's highest price of $3,375 was an 87-inch-tall Native American cigar shop figurine, made by contemporary folk artist Gil Russell. Russell's works have been included in the previous two sessions of the Neugeboren Collection, including this figure, which had made $2,040 when offered in the first session. Re-offered with the same estimate of $800 to $1,200, his result this time contradicts the theory that re-offered lots pay less. There were even a dozen lots of Russells in the sale, fetching prices ranging from $108 to $870.
A surprise result came in a bundle of dolls, including plush folk art dolls, a miniature crib, woolen mittens and kid gloves, which had been estimated at $50/100 but garnered enough interest. interest from bidders to sell for $2,640. It was the second highest price of the sale. It was one of 30 lots of dolls, toys and bears in the auction.
Fewer than a dozen tin lots made it through the block, but one desk set that measured about 8 by 8 by 8½ inches and carried an estimate of $50/75 stunned with a final price of $2,520.
A particularly strong category was quilts, with nearly two dozen on offer, including 12 from the Neugeboren collection. All of the Neugeboren's quilts were 19th century examples, with an 88-by-88-inch appliqué example featuring patriotic flags and stars in the corners and sewn "Our Union Flag 1852" bringing in the highest price in the category of $1,560. A salmon pink and Pennsylvania green geometric sawtooth example fetched $1,440, just ahead of a similar example in red and white, at $1,320.
Despite a relatively small category – just 29 lots – Asian Art & Antiques was led by a group of ten pieces of Asian ceramics, valued at just $50/$100, which attracted enough interest to end up at $1,200. The lot was of varied content and included a large baluster vase decorated with flowers and birds, a pair of foo dogs and two pairs of small vases, one pair in oxblood red, the other in yellow-green, and a charger with blue and white decor.
For fine art, the highest price of $2,040 was achieved by an untitled abstract oil on canvas work by Californian and Chinese painter, George Chann (1913-1995), just above the low estimate. An unattributed oil on wood panel circus scene, 15½ by 19½ inches, soared above expectations to land on its feet at $1,200.
Highlight furniture included a set of two 1940s rattan chairs, appropriate for spring, at $1,140.
Prices shown include the buyer's premium as reported by the auction house.
Copake Auctions' next real estate auction is scheduled for May 7, and the company's bicycle and transportation auction is scheduled for October 15.
For more information, www.copakeauction.com or 518-329-1142.