230MW BESS goes live on California Bureau of Land Management website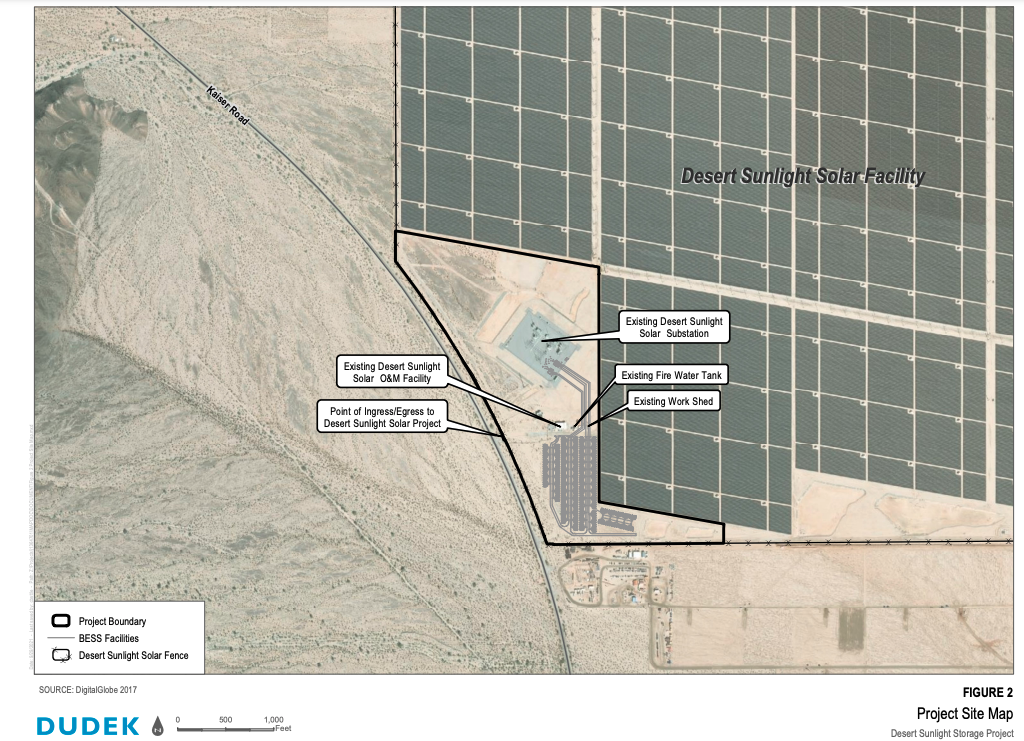 A 230 MW battery energy storage system (BESS) from NextEra Energy Resources, part of a large solar plus storage project, has come online in California.
The Bureau of Land Management (BLM), which manages the land on which the 94-acre project is located in Riverside County, announcement the start of commercial operations on the Desert Sunlight battery energy storage system yesterday (August 16).
The 230 MW BESS project adjoins the existing Desert Sunlight solar farm and will store the renewable energy generated by the farm and move it during peak hours.
In a document approving the project in November last yearBLM said the developer of the project was Sunlight Storage, LLC, a subsidiary of NextEra Energy Resources, which appears to have been very quiet on the project.
An SEC filing from the Fortune 500 company, referring to the project as the Sunlight Storage Facility, said it was a 230 MW/920 MWh system. A four-hour duration is a requirement for projects in California to supply power to utilities through resource adequacy, the framework by which grid operator CAISO ensures supply can meet demand, and the main source of income for BESS projects.
The commissioning of the project is good news for the state after some slowdown in BESS deployments as we approach the peak summer season, when the increased risk of wildfires can also threaten grid reliability and increase the risk of breakdowns.
At the end of July, CAISO had 3,334 MW of grid-scale BESS in commercial operation according to its official data (which may be changed retrospectively if a unit's commercial operation date is announced in a manner significant afterwards).
It's unclear whether these numbers include the Desert Sunlight BESS, which it might do if it announces its commercial operation late, for example. Assuming not, that brings the number of BESSs in California to nearly 3,600 MW. Had Ameresco's 537.5MW/2,150MWh plans for SCE utilities not been delayed, as reported Energy-Storage.news, the figure may have exceeded 4,000 MW by now, the grid operator's stated target.
The BLM is the US government agency responsible for administering federal lands, a key figure in approving projects within its portfolio. Recent major solar and storage projects it has foregone include a 250 MW project by Revolve Renewable Power and one 500 MW project by Oberon Solarboth covered by our partner site PV technology.
The agency also encourages the building of projects on its land, most recently ilaunch a solicitation for large-scale solar projects on 90,000 acres of public land across Colorado, Nevada and New Mexico.